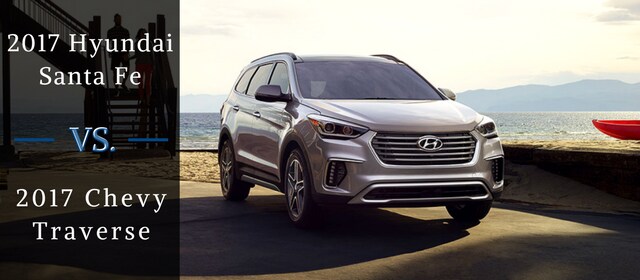 As a pair of eight-seater, V6-powered SUVs, the 2017 Hyundai Santa Fe and the 2017 Chevrolet Traverse might appear to stand neck and neck, but nothing could be further from the truth. When you get down into the details, you'll notice that the Hyundai Santa Fe manages to outclass the Chevy Traverse across all possible measures, leaving it the undisputed master of its class. Keep reading to see how these two SUVs compare side by side.
Power and Efficiency
Both the 2017 Hyundai Santa Fe and the 2017 Chevrolet Traverse deliver V6 power as standard, but that is where similarities cease. The Santa Fe enjoys a slight power advantage, with its own 3.3L V6 delivering 290 horsepower versus just 281 with the standard Traverse. That works out to a noticeable increase in performance, particularly when it comes to acceleration, and Hyundai has even managed to combine superior performance with superior efficiency.
The Traverse trails behind the Santa Fe by earning up to just 15 mpg in the city and 22 on the highway with FWD or AWD, which places it near the bottom of the segment. Conversely, the Santa Fe leads the way by earning up to 18 mpg in the city and 25 on the highway with FWD as standard or 18 and 24 with AWD.
Technology
Providing more power while demanding less fuel is enough to tempt most drivers away from the Traverse, but that isn't all that's on offer from the 2017 Santa Fe.
It also includes several standout technologies that aren't available at any price with the 2017 Traverse, with examples including:
360-Degree Multi-View Camera
Dynamic Bending Light
Android Auto Smartphone Integration
Space
Though both the 2017 Hyundai Santa Fe and the 2017 Chevrolet Traverse can make room for up to eight occupants, everyone will feel a lot more comfortable when they get to travel in the Hyundai Santa Fe. With up to 160.1 cubic feet of total interior volume versus just 150.8 in the Traverse, there's considerably more room in which all passengers can spread out and relax.
Don't worry, that doesn't come at the cost of cargo space. The Santa Fe still enables you to haul around plenty of cargo whether it's the groceries from your local store in Highland Park or whether you're taking a trip from Northbrook to the shores of Lake Michigan for a weekend camping trip:
Up to 13.5 cubic feet behind the third-row
Up to 40.9 cubic feet behind the second-row
Up to 80.0 cubic feet behind the first-row.
Explore the 2017 Santa Fe Further by Visiting Loren Hyundai
The 2017 Santa Fe rests comfortably ahead of the 2017 Chevy Traverse, and you can find out more by coming on down to Loren Hyundai today in Glenview - we're only a short drive from Northbrook and Highland Park. We hope to see you soon!