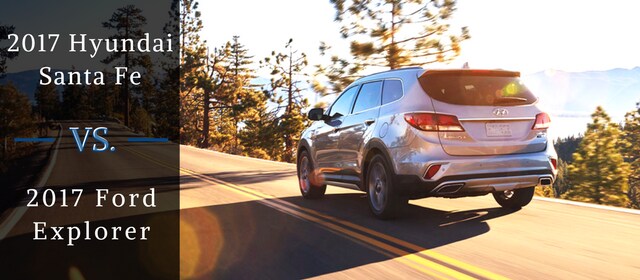 The 2017 Hyundai Santa Fe rests right at the front of its class, even outpacing popular rivals like the 2017 Ford Explorer. These two front-runners might lead the segment, but only one can remain top-dog, and the Santa Fe provides a blend of performance and efficiency that outshines the Explorer, plus a range of exclusive onboard features for Glenview drivers to take advantage of. Keep reading to see how the 2017 Santa Fe compares side by side with the 2017 Explorer.
Power and Efficiency
The 2017 Hyundai Santa Fe and the 2017 Ford Explorer might at first appear well-matched in terms of performance. After all, each model offers a 290-horsepower V6 engine as standard to ensure an agile and responsive drive. That said, the Santa Fe's 3.3L is of a lower displacement than the Explorer's 3.5L, which means enhanced fuel consumption rates.
Just check out how those two six-cylinders compare:
2017 Santa Fe Fuel Efficiency: You'll earn up to a healthy 18 mpg in the city and 25 on the highway with FWD, or 18 and 24 with AWD.
2017 Ford Explorer Fuel Efficiency: You'll only earn up to 17 mpg in the city and 24 on the highway, or 16 and 23 with AWD.
Whether you're tearing across the backcountry near Lake Michigan with AWD enabled or simply cruising from Highland Park to Northbrook, you'll be burning less fuel in the Santa Fe than you would be in the Explorer - all while enjoying identical performance.
Technology
Both Hyundai and Ford enjoy a strong reputation for seeking out state-of-the-art technologies for each new model they introduce, so competition is always fierce between the Santa Fe and the Explorer.
However, the Santa Fe continues to take the upper hand. Here are just a few of the technologies it can offer that aren't available with the 2017 Explorer:
Android Auto for quick and easy smartphone integration
Class-Exclusive Multi-View Camera for 360-degree views around your vehicle
Dynamic Bending Lighting system for flawless visibility while cornering
The 2017 Hyundai Santa Fe is Now Available at Loren Hyundai in Glenview
The new 2017 Santa Fe moves firmly ahead of its rivals with its top capabilities and five-star features. If you'd like to test-drive yours today, simply come down to Loren Hyundai. You'll find us only a short drive from both Northbrook and Highland Park in Glenview.