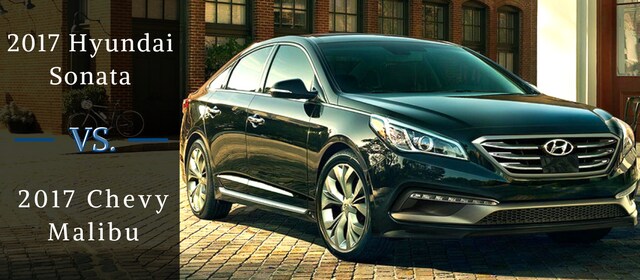 Battling it out among a whole host of other midsize sedans, the 2017 Hyundai Sonata and 2017 Chevrolet Malibu are two of the most popular models across Glenview, Northbrook, and Highland Park. Of course, you'll eventually have to choose between them, so we conducted a competitive comparison to see which model comes out on top. Keep reading to see how the Sonata compares to the Malibu side by side.
Performance and Efficiency
Both the 2017 Chevrolet Malibu and the 2017 Hyundai Sonata are able to provide Glenview, Northbrook, and Highland Park drivers with a high-powered available engine, but the Malibu really falls flat when it comes to standard power.
Here's how its entry-level powerhouse compares to that of the 2017 Sonata:
The 2017 Malibu: The Malibu's 1.5L engine generates a meagre 163 horsepower.
The 2017 Sonata: The Sonata equips a 2.4L four-cylinder rated at 185 horsepower.
Interior
Midsize sedans should provide space for all the family to relax, plus more than enough room in the trunk to take everything you could need. That's just what you deserve, and you need look no further than the 2017 Hyundai Sonata, which offers up to 122.4 of interior volume. That beats out the Chevrolet Malibu (118.7), Toyota Camry (118.1), Honda Accord (119), and the Nissan Altima (117.3).
Not sure how those numbers work out in real life? Well, they afford the Sonata up to 40.4 inches of front headroom and 45.4 inches of front legroom; the Malibu feels constricted in contrast with only 39.1 inches of front headroom and 42 inches of front legroom.
Comfort and Convenience
The Sonata's Class-Leading interior dimensions are only part of what makes the vehicle one of the most comfortable midsize models around. It also offers several features that you won't find available with rivals like the 2017 Chevrolet Malibu, including:
Class-Exclusive Hands-Free Smart Trunk: Opens up automatically when the Proximity Key is behind the vehicle within three feet for more than three seconds.
Class-Exclusive Rear Side Manual Sunshades: A simple yet innovative feature that helps protect your kids from the sun during longer drives.
The 2017 Hyundai Sonata Outclasses the 2017 Chevrolet Malibu
Need more space and stronger features than the 2017 Chevrolet Malibu can deliver? We don't blame you, and that's exactly what we can provide here at Loren Hyundai when you ask about the 2017 Sonata. For more information, contact us online or call 224-766-7189. We can't wait to put our Glenview, Northbrook, and Highland Park customers behind the wheel of this incredible midsize sedan, so make sure you visit us soon to take it for a test drive!