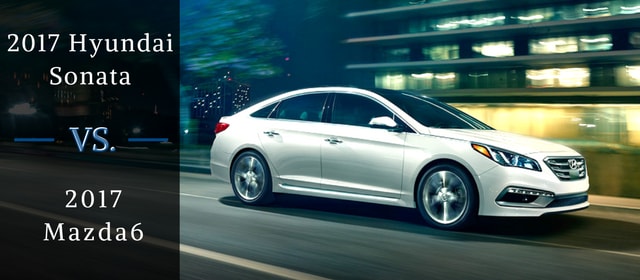 Glenview, Northbrook, and Highland Park drivers will often find that midsize sedans measure up fairly equally, but that isn't the case when you compare the 2017 Hyundai Sonata against the 2017 Mazda6. When a vehicle outpaces a rival across measures as diverse as efficiency, power, features, and space, the choice between them isn't ever going to be much of a headscratcher.
Performance
Both the 2017 Hyundai Sonata and the 2017 Mazda6 fit a four-cylinder engine as standard, though the Sonata's peaks at 25 mpg in the city and 36 on the highway, while the Mazda6's makes only 24 and 34 as standard.
The Mazda6 also completely neglects to offer Glenview, Northbrook, and Highland Park drivers an available upgrade. In stark contrast, those who want their Sonata to go the extra mile will be able to add a sporty turbocharged 2.0L capable of making up to 245 horsepower and 260 lb-ft of torque. Or they can opt for the eco-friendly 1.6L Turbo that ups efficiency ratings to 28 mpg in the city and 36 on the highway.
Technology
Family sedans should offer plenty of comfort and convenience features. That's something the Sonata remembers that the Mazda6 doesn't; here are just a few of the features it holds in its favor:
Apple CarPlay/Android Auto: Sync up your smartphone to use its apps and features through onboard systems.
Class-Exclusive Hands-Free Smart Trunk: Opens automatically when the Proximity Key is sensed behind the vehicle within three feet for more than three seconds.
Space
The 2017 Hyundai Sonata's interior doesn't just offer more features than that of the 2017 Mazda6; you'll also get significantly more space into the bargain. In fact, up to 122.4 cubic feet of interior volume makes make the Sonata a class larger than other midsize models; it offers radically more space than the Mazda6, Toyota Camry, Honda Accord, Nissan Altima, or the Ford Fusion.
Here's a quick overview of how that advantage will play out once you get inside:
Passenger Comfort: There's up to 45.5 inches of legroom and 40.4 inches of headroom in the front of the Sonata vs. just 42.2 and 38.4 in the Mazda6.
Cargo Space: The 16.3 cubic foot trunk of the 2017 Sonata thoroughly outclasses the dinky 14.8 cubic foot trunk of the Mazda6.
The 2017 Mazda6 Fails to Compete with the 2017 Hyundai Sonata
After comparing the 2017 Mazda6 to the 2017 Hyundai Sonata, it's hard to imagine that the two are even in the same league. To enjoy one of the best midsize sedans around, come down to Loren Hyundai today to take a test drive in the 2017 Sonata. We can't wait to get our Glenview, Northbrook, and Highland Park customers behind the wheel of this glorious midsize sedan, so make sure you come visit us soon to take it for a spin!