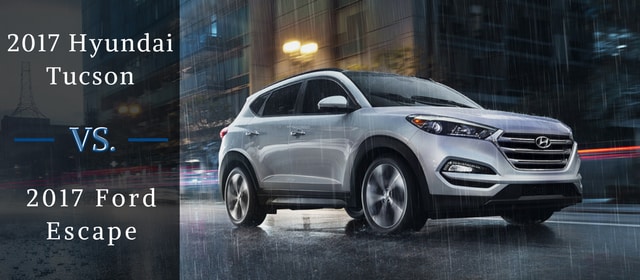 If you think the 2017 Ford Escape might have the 2017 Hyundai Tucson beat, think again. Hyundai has clearly poured plenty of resources into making their crossover the best in the segment, and that effort has paid off; you'll experience a level of efficiency, safety, and comfort that cannot be paralleled by the Escape. Keep reading to see how the 2017 Escape compares to the 2017 Tucson in a side-by-side matchup.
Efficiency
With the 2017 Hyundai Tucson, you can travel from Chicago up to Highland Park or cruise from Naperville over to Northbrook without worrying too much about fuel economy. That's thanks to a 7-speed Dual Clutch Transmission, which combines smooth-shifting with efficiency scores of up to 26 mpg in the city and 32 on the highway.
Better yet, the Tucson is the only vehicle in its class to boast such a high-end transmission. The difference it makes is clear enough after a comparison with the 2017 Ford Escape, whose mileage figures peak at 23 in the city and 30 on the highway.
Safety
Ford is usually an early-adopter of the latest safety technologies, so it might come as something of a surprise to learn that the 2017 Hyundai Tucson can provide driver assistance features that aren't available at any price with the latest Escape.
Examples include:
Automatic Emergency Braking: Scans for vehicles and pedestrians in your path, then applies full brake-force stopping power to prevent an accident from occurring.
Lane Change Assist: Gauges the closing speed of an approaching vehicle to determine whether or not it is safe to shift lanes.
Comfort
The Tucson is going to keep driving while the Escape looks for a gas station, all while making your drive just that little bit safer, and it still isn't done. Even comfort has been optimized beyond the reach of the Ford thanks to the following features:
Ventilated Front Seats
Heated Rear Seats
YES! Essentials Stain- and Odor-Resistant Fabric
You'll stay cool in the summer and warm in the winters, and the kids won't stand a chance of messing up the cabin's upholstery.
The 2017 Hyundai Tucson Should Be Your First Choice for a Crossover
Even the Ford faithful are having second thoughts about the Escape after taking a test drive in the Tucson. If you'd like to see what the Hyundai has to offer, pay a visit to Loren Hyundai. We're only a short drive from the center of Glenview, so stop by soon to take the 2017 Tucson for a spin!