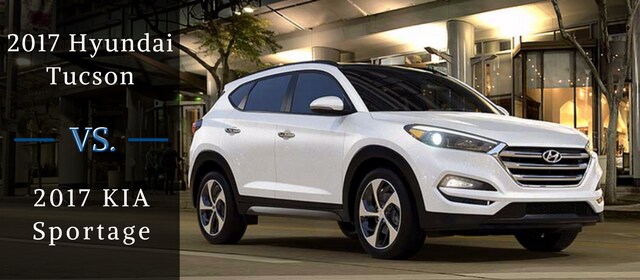 If you've been thinking about the 2017 Kia Sportage, you should take the time to consider your initial choice alongside the 2017 Hyundai Tucson. They might both be popular crossovers, but the Hyundai represents a slightly higher grade of efficiency, space, and technology, plus a vastly superior warranty as standard. Keep reading to see how the Sportage compares side by side with the Tucson.
Performance and Efficiency
The 2017 Hyundai Tucson has been equipped with a thoroughly state-of-the-art 7-speed dual clutch transmission system, which allows our Glenview customers to go the distance without having to worry about fuel efficiency.
You can expect up to:
23 mpg in the city and 30 on the highway, or 21 and 26 with AWD, with the 2.0L four-cylinder engine.
26 mpg in the city and 32 on the highway, or 25 and 30 with AWD, with the 1.6L turbo four-cylinder engine.
The 2017 Kia Sportage is far less impressive, with mileage reaching just 21 mpg in the city and 26 on the highway. Whether you want to travel from Highland Park down to Chicago or from Northbrook to Naperville, the Tucson is going to take you there burning far less fuel.
Interior
The 2017 Kia Sportage falls behind when it comes to interior space, offering up to 60.1 cubic feet of cargo space vs. 61.9 in the 2017 Hyundai Tucson. The Tucson is also more comfortable for passengers, delivering the following features that are entirely absent from the Sportage lineup:
Ventilated Front Seats
Heated Rear Seats
YES Essentials Stain- and Odor-Resistant Fabric
Safety
Both the 2017 Hyundai Tucson and the 2017 Kia Sportage are available with a strong selection of standard and optional safety features, but the Tucson still manages to bring more to the table. Just take the Lane Change Assist feature; it measures the closing speed of approaching vehicles to determine whether it's safe for you to shift lanes.
The Tucson even delivers the peace of mind that comes with a 10-year/100,000-mile warranty, which includes 24/7 roadside assistance. It says plenty about Kia's confidence in the Sportage to learn that their warranty only covers you for 60 months and 60,000 miles.
The 2017 Sportage Fails to Hold Pace with the 2017 Tucson
The Sportage is fine at first glance, but a comparison with the 2017 Hyundai Tucson is enough to reveal its copious flaws. If you'd like to take America's most competitive crossover out for a spin, just come down to Loren Hyundai in Glenview, IL - we're only a short drive away from the center of Glenview.