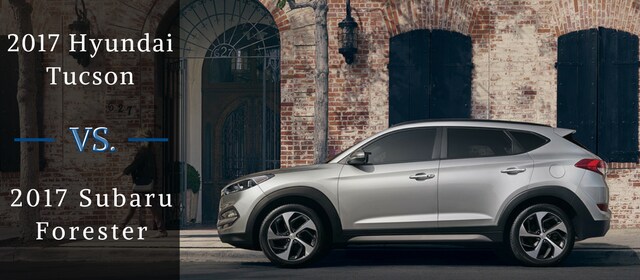 The 2017 Hyundai Tucson stands head-to-head with the 2017 Subaru Forester across most measures, but it pulls incalculably ahead in terms of onboard technologies and comfort features. Whether you're looking for enhanced connectivity, easier directions, or simply cooler seats during the summer, you'll be better off opting for a Tucson. See how the 2017 Tucson compares to the 2017 Forester now!
Technology
The 2017 Hyundai Tucson manages to represent the cutting-edge of automotive technology, offering the following features that aren't available with the 2017 Subaru Forester.
Hands-free Smart Liftgate: Unlike the 2017 Subaru Forester's basic power liftgate, the Tucson's will open up automatically when it senses the Proximity Key within three feet of the vehicle for more than three seconds.
Blue Link: Connect to Blue Link through your smartphone, smartwatch, web app, or in-car system to locate gas stations, find shortcuts, or call for assistance. Remotely lock and unlock the car, turn on the climate control functions, or heat the interior to defrost the windshield on cold mornings. You can even use Destination Search, powered by Google and Google Send to Car, to send search results to your vehicle so you can easily navigate the Chicago suburbs.
Android Auto: Connect up your Tucson's onboard systems with your Android Auto compatible device, then use select road-ready apps. You can use Talk to Google to ask for directions or take calls, then use the MovieTickets.com app to find shows in Highland Park or Yelp to get restaurants in Glenview.
Apple CarPlay: The Tucson also provides connectivity for iPhone users. Siri can make the move to your car to assist you with all tasks, and you'll still be able to use all the fantastic features you'd have been able to benefit from using Android Auto.
Comfort
The technologies listed above can make your ride significantly more convenient, but the Tucson doesn't forget to cater for comfort; in fact, it offers a number of comfort features that are unavailable with the Subaru Forester.
Unlike the Forester, the Tucson allows heated seats in both the front and rear, and you'll also be able to add a ventilated feature for those in the front. All seats come covered as standard with YES! Essentials stain- and odor-resistant fabric, making this an ideal crossover for active Northbrook families.
The 2017 Hyundai Tucson is a Feature-Rich Family Crossover
The Tucson leads its class when it comes to onboard amenities, even outpacing established rivals like the 2017 Subaru Forester. If you'd like to find out more, just contact one of the team here at Loren Hyundai today. We're just a short drive from Northbrook and Highland Park in Glenview, so make sure to stop by today to take the 2017 Hyundai Tucson for a test drive!